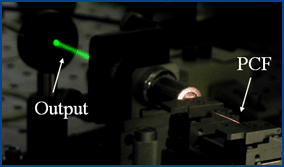 WELCOME
The Photonics Laboratory currently supports multiple research thrusts in signal processing, sensing, and communications. The group has developed a new class of parametric devices and used them to achieve records in terabit-scale signal processing, analog-to-digital signal conversion, and coherent band mapping. The core capability of the laboratory, nanometer-scale mixer synthesis, is enabled by a unique facility developed over a half-decade period. The new technology is currently used to construct new classes of agile oscillators and sensors operating in distant spectral bands and establish new records in speed, fidelity, and dissipation.
In a second thrust, the laboratory hosts research on communication and sensing in bandwidth constrained physical channels. This technology has led to record spectral efficiencies in optical and free-space links and is currently being developed in both optical and RF domains.
OPEN POSITIONS
Graduate Research and Postdoctoral positions are currently open in broad areas of signal processing and unconventional sensing. Candidates are expected to operate in large-scale, collaborative efforts conducted in a systems laboratory. Inquiries and resumes should be sent to Dr. Nikola Alic.